Pull + Ink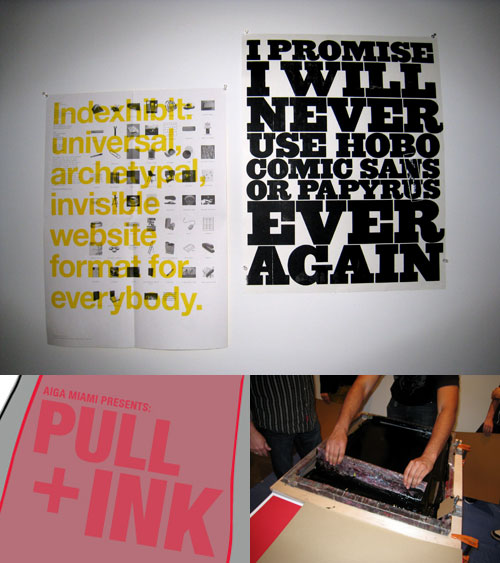 Last Thursday, Chris and I jumped over the causeway for an AIGA Miami event at the Lincoln Road Art Center. Pull + Ink was the third event in the Parallels series that commenced with a presentation by Jeff Matz, Principal of
Lure Design
, followed by screen-printers Ian Rowan and Chuck Loose of
Iron Forge Press
discussing the technical aspects of the medium.
The show concluded with Jeff having everyone pull and ink their own screen print of the above declaration: "I promise I will never use Hobo, Comic Sans, or Papyrus ever again".
A clever little line definitely tailored to the graphic designers at the show, as these are the names of typefaces widely considered a big no-no when used. I agree.
Posted by
Rony
on Feb 24, 2009 in
Editorial
[
entry link
]
A Call for Entries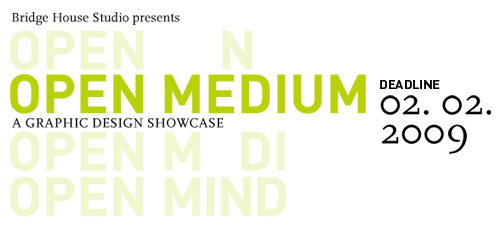 Bridge House Studio is hosting OPEN MEDIUM A Graphic Design Showcase. The show will be a part of February's Art + Design Night in the Miami Design District. All art directors, designers, illustrators, photographers, motion
designers, typographers, etc. are invited to enter their work by February 2nd.
PLEASE NOTE: The event itself is on February 14th, while entries should be received by no later than February 2nd. For more information about the show please go to
Open Medium SUBMISSION DETAILS »
Posted by
Rony
on Jan 26, 2009 in
Happenings
,
Studio News
[
entry link
]
Studio Expansion

Anyone who works with me knows that I am very proud to have been born and raised in the Midwest (Wisconsin). I moved to Miami in 1998, and over the past decade I have learned to be proud to call Miami my home as well. Bridge House Studio's headquarters are located in Miami, which is where we've successfully grown for the last 15 years, and even though Miami is and always will be the majority of our business, I've had the opportunity to work with clients on a regular basis in the Midwest over the last few years. This has proven to be very successful, and we are officially announcing our expansion into the Chicago and Milwaukee areas.

Posted by

Cristine

on Nov 26, 2008 in

Studio News

[

entry link

]
An Award-Winning Announcement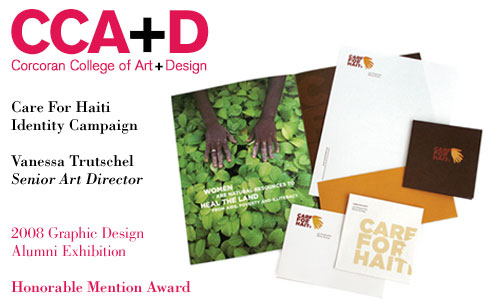 Congratulations to the Bridge House Studio Team for winning an Honorable Mention for our
Care For Haiti Identity Campaign
. 56 Alumni from the
Corcoran College of Art + Design
in Washington D.C. entered works into the GRAPHIC DESIGN AND DIGITAL MEDIA ALUMNI EXHIBITION AWARDS (judged by Paula Scher and Michael Hodgson), and Bridge House Studio's Senior Designer (and alumna) Vanessa Trutschel won an Honorable Mention from the jury. The work, including posters, book and publication design, environmental graphics, branding, logos, identity design, and packaging, will be exhibited in Gallery 31 of the Corcoran Gallery from October 30, 2008, through December 4, 2008.
To view the work,
follow the link
and click on the names of the designers.
Posted by
Cristine
on Nov 12, 2008 in
Studio News
[
entry link
]
The Oxford Project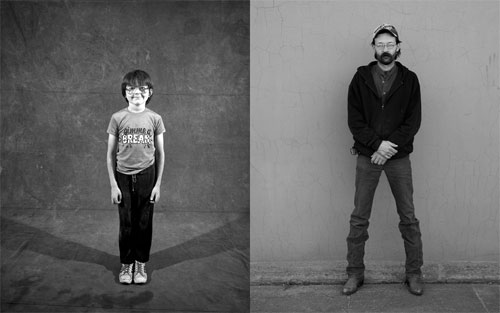 In the spring and summer of 1984, photographer Peter Feldstein announced that he wanted to take free portraits of everyone in Oxford, Iowa (pop. 673). By the end of the summer, he'd photographed 670 Oxford residents. Twenty-one years later, Feldstein went back, and this time he brought along writer Stephen G. Bloom to document people's stories. The Oxford Project (Welcome Books) is the remarkable portrait of a small town "virtually untouched by both the vitality and vulgarity of urban America."
The Oxford Project
by Peter Feldstein & Stephen G. Bloom
All images copyright © the authors, courtesy Welcome Books, all rights reserved.
Posted by
Chris J.
on Oct 27, 2008 in
Stimulation
[
entry link
]